Posted By:

Scott Campbell
Joe Jones (Nickel Pies) -

04/12/07

05:24 AM
A 5 minute folk song with six verses and no chorus or bridge - just what you wanted!
At least it's uptempo

This is not meant for general appeal. It's a gift for my wife's grandmother Ann and is written about her husband Joe, who passed on about 20 years ago.
I know many are hesitant to comment on songs of a personal nature but I would love to hear suggestions. I'll probably keep the lyric pretty close to what it is unless there are some suggestions for better phrasing. Any comments about the arrangement, mix, or any other aspect would be appreciated.
This was co-written with Joe's niece Resa. She wrote some of the lines and gave me essentially all the details.
Here's the song:
http://www.soundclick.com/bands/songInfo.cfm?bandID=377550&songID=5225330
Here's a picture of Ann and Joe taken in 1936 - about 49 years before they celebrated their 50th anniversary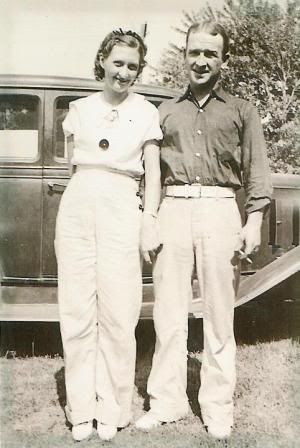 I'll post the lyric below. Thanks!
Scott
Joe Jones (Nickel Pies)
(c) 2007 by S.W. Campbell and Teresa Thornburg
Well Missouri in the thirties
There was more men than was work
But every job there hard or dirty
I did for dinner and dessert
But I knew the world was bigger
So I hopped a freight train west
And I left each town
With my nails worn down
And some pennies in my vest
Lo de oh de oh oh oh
Lo de oh de oh oh oh
Well I rode those rails and counted the ties
And I dreamed of nickel pies
Never thought I'd find my fortune
North of nowhere mining coal
There a shy, sweet girl named Ann
Made my tattered heart feel whole
And I knew the world was brighter
On a January day
We were to wed in Spring
But I had the ring
And I knew I couldn't wait
Lo de oh de oh oh oh
Lo de oh de oh oh oh
Well we said our vows under cold, blue skies
And we dreamed of nickel pies
Well the folks back home in Higbee
Heard of the gains that could be got
And pretty soon our friends and family
Filled our two room place with cots
And through those cold Wyoming winters
We helped all who came our way
Someone asked what we did
When the summer hit
I said "We play ball that day"
Lo de oh de oh oh oh
Lo de oh de oh oh oh
We made it through on company store supplies
And we dreamed of nickel pies
When we left Rock Springs for Portland
A welder's ticket in my hand
I knew my job there was important
We built the ships that beat Japan
And though times were getting better
We didn't have much money saved
And when the doc told me,
"You need surgery"
I said, "Doc, it'll have to wait"
Lo de oh de oh oh oh
Lo de oh de oh oh oh
So we became both pound and penny wise
And we dreamed of nickel pies
We moved back to Missouri
When my daddy passed away
I heard the mine up in Excello
Needed welders for good pay
Was on a shovel named Goliath
Where I chanced to make my name
Well we kept him goin'
On a night so raw
That the cold wind cracked his frame
Lo de oh de oh oh oh
Lo de oh de oh oh oh
I saw my breath freeze right in front of my eyes
And I dreamed of nickel pies
So we bought a house a stones throw
From the town where I was raised
It was here we'd let our roots grow
And our son would come of age
And by the time that we had grandkids
It was known across this land
That if you had the need
To run a bead
Joe Jones, well, he's your man
Lo de oh de oh oh oh
Lo de oh de oh oh oh
It's been fifty years Ann, how time flies!
That's a lot of nickel pies
That's a ton of nickel pies